Sorry....but still testing the posting pics thing !
So .....here he is again !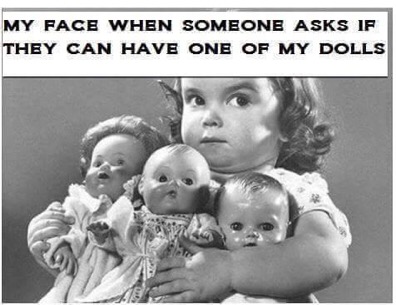 Luv Sally xx
---
Posts: 17151
Joined: Sun Jan 30, 2011 2:05 pm
Location: Florida
---
Posts: 8641
Joined: Thu Jun 02, 2005 2:23 pm
Location: Alabama
Lovely......you are doing great in posting pictures using the attachments Sally. I think you are really smitten with that one for sure!

Hugs,
Diane
Be happy and play with dolls!
---
He's a handsome little fella.
Hugs Annette
******************
*********************
---
---
---
Posts: 2806
Joined: Mon Jun 30, 2014 6:33 am
Location: Georgia
I need that meme for my FB page. Hehe
---
---
I was just going to say that I love your siggy picture, too!
I had a doll like the one the little girl is holding closest to her body & have looked for years to replace her.
I called her "Daisy", have no idea what her real name was. She had a hard head on a rubber body, only marking said "Sun Rubber Company" on er neck. When last year I asked someone that was an antique doll appraiser, etc. he said I would probably not ever find one as the bodies deteriorated over the years. Made me sad, to think she was gone forever. I do have picture of me with her, so I still have the memory.
---
He is so photogenic, I imagine in person he is gorgeous. Love him.
Your siggy is hilarious
---
Thanks girls !
Barby....I had one of those dolls too !...and yes, they seem to have gone because of the rubber bodies. You are lucky having a photo of yours !
I loved that siggy pic the moment I saw it !...feel free to pinch it anyone.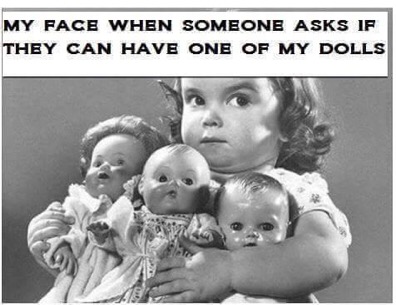 Luv Sally xx
---
Posts: 17109
Joined: Tue Sep 25, 2007 12:05 pm
Location: Upstate NY
Your pictures are looking great!


I on the other hand am still struggling with the whole picture thing!
---
Posts: 1310
Joined: Mon Jun 10, 2002 1:40 pm
Location: OREGON
Love your baby boy Sally!!! He is precious!
---
Posts: 396
Joined: Thu Mar 27, 2014 6:18 am
Location: England
Contact:
---
Definitely a beautiful boy..............I love your siggy picture...............Hugs, Kathy
---
---
Return to "General Dolly Discussions"
Who is online
Users browsing this forum: Google [Bot], Google Adsense [Bot] and 9 guests