I promised a tutorial of sorts on sculpting and putting together the full body baby. This is my method and I am constantly improving upon it. But, I am comfortable enough with the process that I am willing to share it with you. Please feel free to ask further questions. I also welcome your tricks and suggestions. The thing that keeps me going is the challenge of doing a better sculpt!!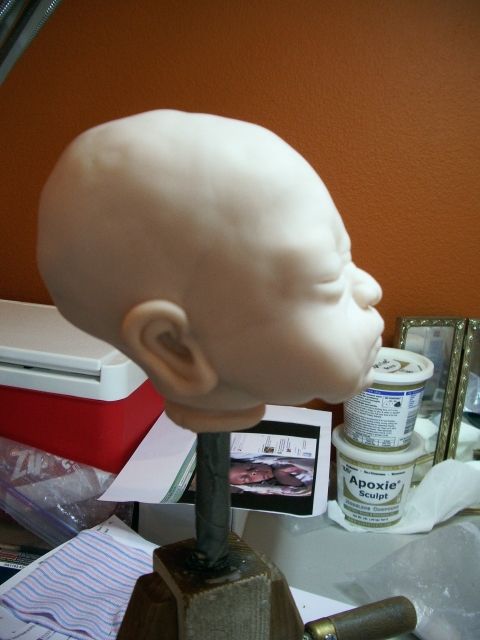 I start by sculpting the head...I form the base in foil to the exact shape and dimension of a newborn skull. My guide is a skull replica of a 40 week fetus. I sculpt on an aluminum dowel. This sets the emotion of the rest of the sculpt. I bake the head.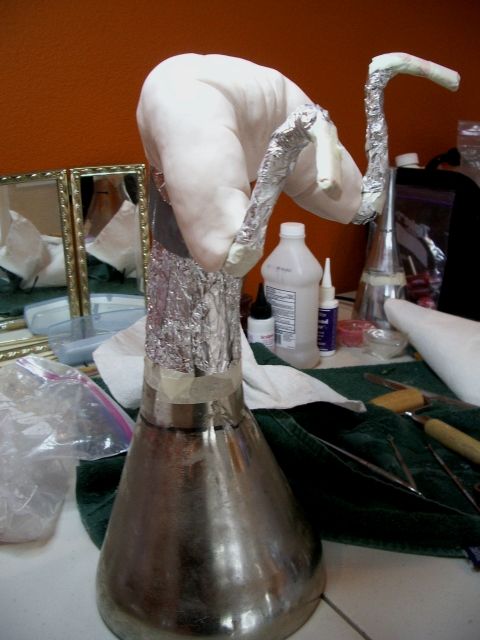 Next, I sculpt the very lower part of the torso on an aluminum cone shaped vase. I measure electrical wire the length of the legs and adhere it to a foil base. The genital area and legs are all sculpted upside down. I then carefully transfer the sculpt to a smaller and less tall cone for baking. I bake it in the upside down position.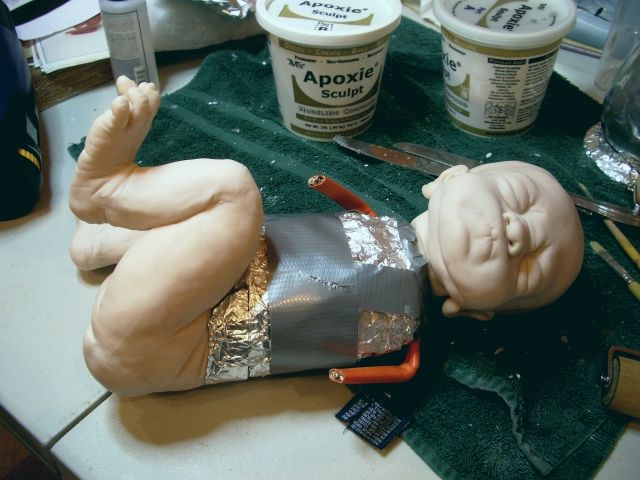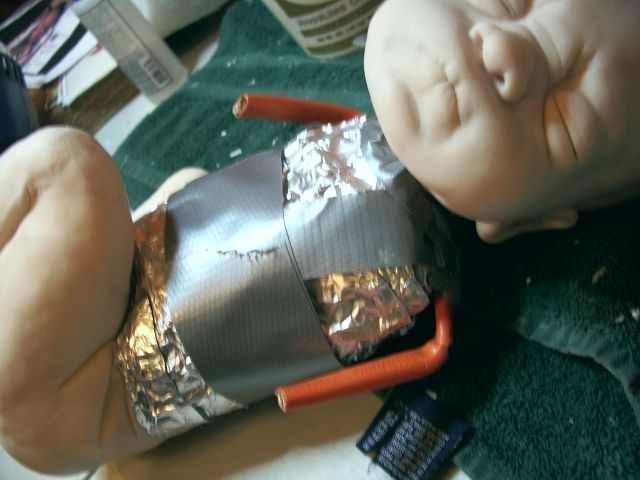 I fill the tummy area with foil to achieve the torso fullness. I use Apoxy clay to insert an electrical wire into the head, and I then use Apoxy clay to insert the head wire into the body. I secure the body with masking tape as well as duct tape and some additional reinforcement with Apoxy. Attach another piece of wire across the back of the neck and extending out to the shoulders and upper arm. Tape and epoxy in place.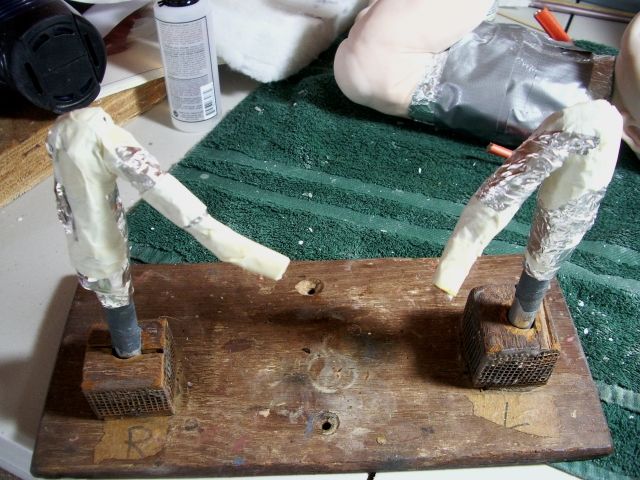 I sculpt the arms and hands to just above the elbow. I use short aluminum dowels, measured electrical wire and foil. Bake.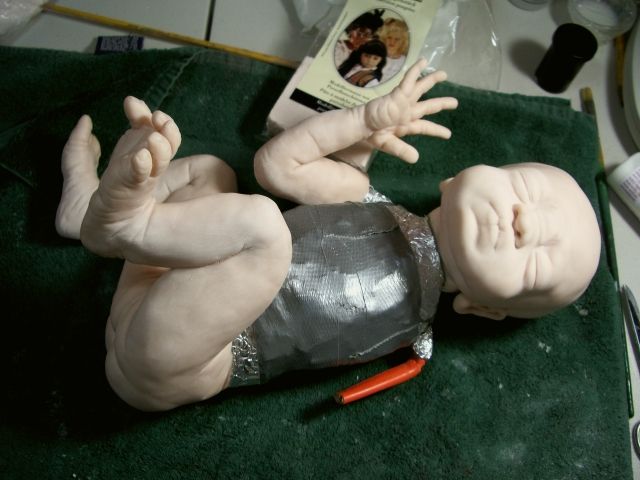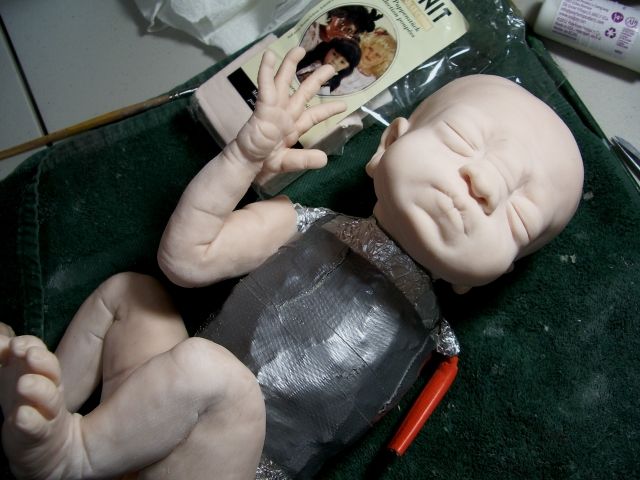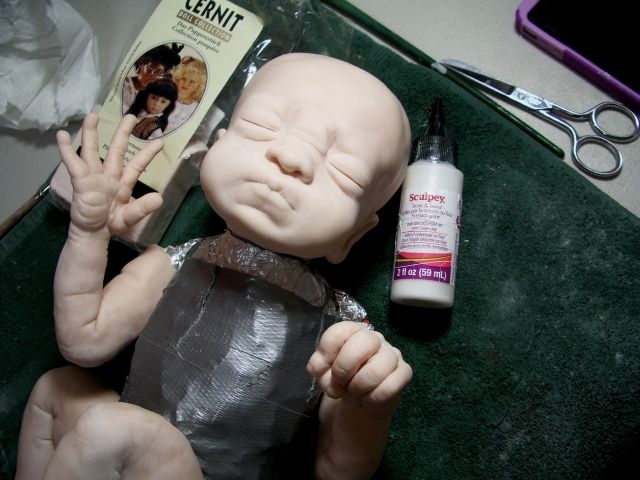 Next, see how the arms fit with the body...slide them onto the upper arm wires.
Turn over and sculpt the back from the bottom to the neck. Bake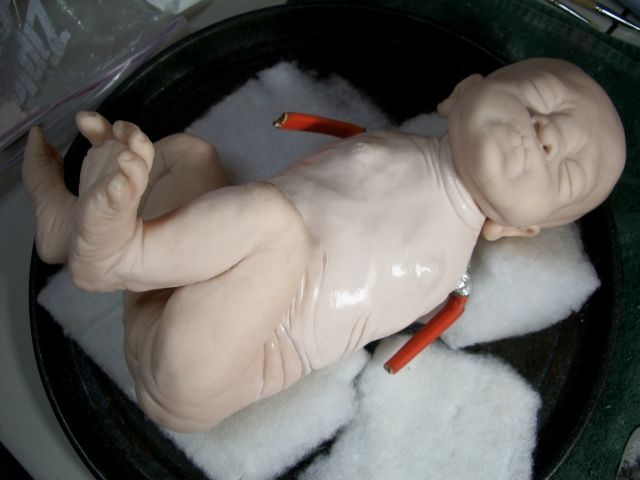 Sculpt the tummy from the crotch to the neck. Insert the arms permanently and secure with epoxy. Bake.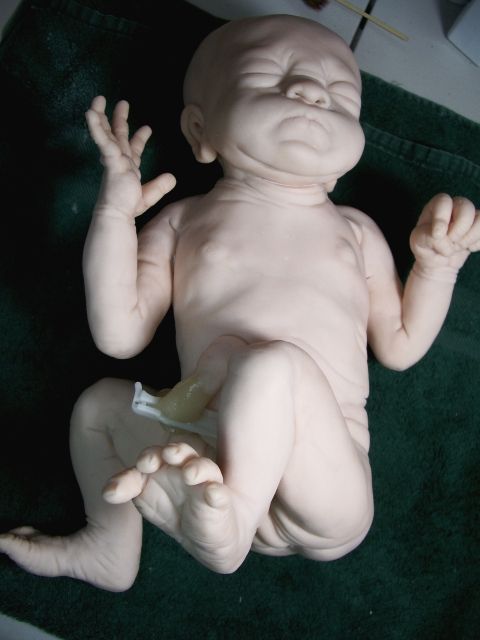 Fill in the shoulder areas and sculpt all of the upper arms. Bake the entire doll for the last time.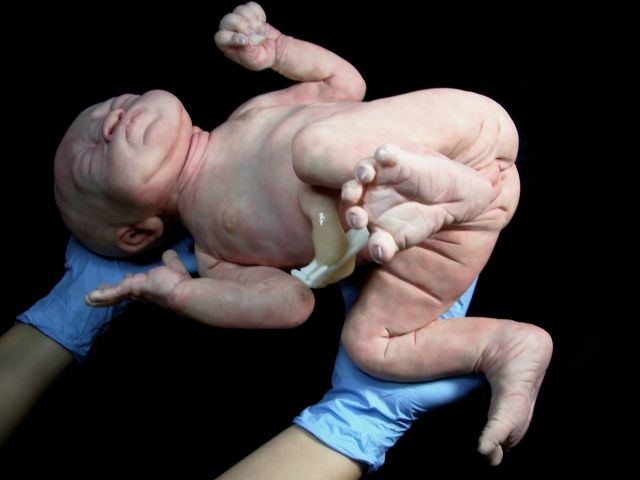 I paint with Genesis paint...many layers drying with the heat gun and finally a 6-7 minute bake of the whole doll.
I hope that this has been helpful for you...I use Sculpey Bake and Bond wherever I join baked clay to unbaked clay. It insures a smooth and permanent joint. Please feel free to ask questions any step of the way. I will do my best to share what i know.